Building Permit Software: Boost Productivity of Building Inspectors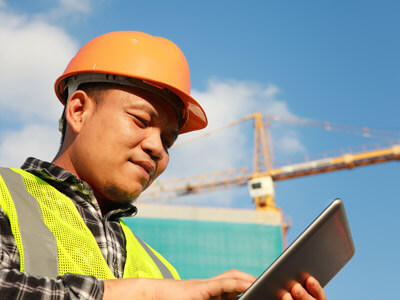 We know that building inspectors have very busy schedules between time spent traveling and performing all types of inspections. With iWorQ's building permit software, a small change in how you manage each day can make a big difference. We help remove unnecessary tasks to make a building inspector's job more productive. Using iWorQ's building permit software can save your inspectors time and money while ensuring you keep up with permit demand.
Mobile Record Keeping
With iWorQ's mobile capabilities, building inspectors can complete inspections anywhere without going back to the office to make updates. Instead of clipboards and paper, inspectors can record inspections on their mobile device of choice – including tablets and smartphones. They can see what inspections are scheduled, pull up permits, update details, and sign off and complete the inspection. Using the software they can take pictures of their inspections and upload them directly to iWorQ. Templates can be used so inspectors don't have to enter the same information repeatedly. Because there is no need to run back to the office to update information or submit forms, it is a great timesaver.
Review of Permit Managment
We asked Benton County, Washington's building inspector, Rod Worthington, what his thoughts were on iWorQ's Permit Management. Rod said;
"[Permit management] is fast and easy to record inspections and print the field assignment sheets. We are currently working on being able to enter correction notices and inspection reports in real time from the field. Contractors will then be able to view results on their smart phones through the access portal. We are hoping to reduce costs to the jurisdiction from paper forms and phone calls to the office."
Other features of permit management include:
Organized tracking of all activities for each inspector
Configurable reporting for
Fees
Payments
Inspections
Reviews
Your agency can also benefit from iWorQ's building permit software and other applications. Click here to request more information.